Best Bass Fishing Rod For The Money
Last Updated: 01/29/21
Shopping for a bass fishing rod can be a tussle, especially with the many brands available to choose from. This calls for different considerations to settle for the best.
You should consider your personal needs. To help you get the best bass fishing rod for the money, here is a review of products and key attributes to look for in a fishing rod.
College Bass occasionally links to product and/or services offered by vendors to assist you with all your fishing. Some of these may be affiliate links, meaning we earn a small commission if items are purchased.
Best Bass Fishing Rods Review
Here are 7 best bass fishing rods for your money
This Berkley Big game product is a very great rod for fishing big bass. It's made with durable components that will allow you to catch both freshwater and saltwater bass.
It also features strong fiberglass that ensures the rod bends when lifting a heavy fish, this reduces tension and breakage. You will not be tensed when you lift a heavy bass.
The rod comes with a well-built titanium guide, which will help you target any bass, for more harvest. You will have an advantage when it comes to gripping, with the split grip handle, which does not slide easily.
This will maximize your potential with every cast.
Built to handle even the notorious fish that pull the rod towards the water. Then when it is easy to connect with the spinning reel without any shortcoming.
This helps you engage bass schools faster. Resulting in a more successful regular cast on any bass fish.
PROS
It has tough fiberglass that sustains bites from the big monster fish
The rod is made with comfy materials that ensure you handle it well
It is suitable for both freshwaters and saltwater angling
It lasts long and the stainless material ensures you can use it conveniently
CONS
It works very well though this rod is not compatible with casting reels
CHECK CURRENT PRICE: Berkley Big Game Spinning Fishing Rod
---
The KastKing Crixus Fishing Rods are perfect for fishing any bass species. It works well in the rivers for the small scale anglers. When it comes to fresh and saltwater bodies the rod becomes a perfect choice. It is made with powerful IM6 graphite.
With this rod, you have an advantage on the choice you want, whether the light one or the heavy one.
The handle is made with super-polymer that is durable to last longer without wearing out. Then it is comfortable giving you bonus points for handling the bass from the water.
The slip-resistant feature will give you more control of the fishing rod in any weather condition. In most situations, these handles are only seen in expensive rods.
But on this KastKing got you covered and no need to spend more.
As an angler, you know that quality is an important priority. This is exactly what you will see with the stainless guide. It is made with Zirconium oxide.
With this, you will make smooth casts that will make you get exceptional performance.
PROS
It gives you a wide variety of choice with the 20 different models of choice
It is convenient for fishing all types of bass
The rod is made in 2 pcs, which are easy to transport and store
The graphite material used gives it a lightweight easy to hold
CONS
There are a few complaints of this rod may be a little that it is easily fragile.
CHECK CURRENT PRICE: KastKing Crixus Fishing Rods
---
This fishing rod will give you great performance with the four guides placed in different positions. If you want a good fishing rod that will give you the best performance, then this is it.
It does this and still maintains the lightweight so that you can use it to cat long distances. After casting it is the non-line twist tip works best to ensure the line does not hinder you.
With this rod, you will have better control, thanks to the pure power transition technique. You will also have a smooth power transition at the bend. This will make you a more productive fishing bass of any size.
The rod has a strengthened with high-quality carbon to guarantee durability. This construction is also a priority to ensure you can lift the rod and cast any distance.
Piscifun Torrent Baitcasting Rod will work for both longer and shorter bait casting.
PROS
You can use it for both small and large bass species
It is compatible with a variety of spinning reels
Features a high sensitivity off mediums and is also comfortable to hold
It is easier to use, transport, and store
CONS
This two-piece rod is at times difficult to assemble after disassembling
CHECK CURRENT PRICE: Piscifun Torrent Baitcasting Rod
---
This KastKing rod is one of the best bass fishing rod that will give you ultimate services in your angling career. Whether you are doing it as a sport, occupation, or for recreation.
This rod will serve you at its best. That is why it is one of the best bass fishing rods for the money.
With different lengths available for this fishing rod you will get exceptional control by choosing the casting length.
For that purpose, there are 27 different lengths to choose from. With this spinning rod, you can apply any technique you want, both in salt and freshwater.
When it comes to handling the rod, you will have a very good time. This is with the slip-resistant handle that allows you to work any time.
Even in the winter, you will not experience sliding errors. Thus, you will have a guaranteed accuracy to cast any point you want.
This rod was designed with the angler's concern in mind. That durability is needed, which is delivered by the use of graphite for its construction. This goes a long way to ensure the sensitivity of the rod is at its prime.
PROS
This rod is easy to attach hook, lures, and crankbaits of any made.
It gives a top performance with a robust guide.
The rod will amaze you with its lightweight
The stainless construction makes the rod last longer.
CONS
This is one of its kind only that few complaints that it is difficult to assemble the two-piece rods.
CHECK CURRENT PRICE: KastKing Resolute Fishing Rods
---
It's, not a surprise that St Croix Mojo Inshore Spinning Rods are on the top list of the best spinning rods. This heavy power rod, ensure you get a comfy and firm grip with the slip-resistant handle.
If you are an angler that appreciates great products at a low cost. Then you should add this fishing rod to your fishing toolkit.
It makes use of popular low weight materials. So that you can lift it and down easily. After getting hold of this spinning rod you will have no issues in finding a matching spinning reel.
This is because it is compatible with a variety of popular reeks you will find in the market.
You will enjoy every fishing adventure and every casting you make. You will be like a hunter prepared for anything that may happen.
You will find a higher edge to conquer the miner bass like the famous largemouth bass. Moreover, if you are an inshore saltwater fisher this bass is designed for that.
PROS
Gives you the freedom to get hold of plenty of fish
It is convenient for all types of fishing even the tricky strippers
It is suitable for various fishing techniques that you want to implement
Only high quality and durable materials are used in its construction
It aligns well with any combos and it is efficient
CONS
The rod is not compatible with bait casting reels
CHECK CURRENT PRICE: St Croix Mojo Inshore Spinning Rods
---
This KastKing product is designed with the Nanotube resin technology that reduces the weight of the rod without compromising on the quality and services the rod offers. By this, the lifting weight is increased by over 35%.
The fine reel seat and guides are used to give you a better performance. The uncompromising performance you will get from this rod will make you better your skills.
The graphite and S-glass construction will make you not visit the fishing appliance store any time soon. You will use it for a longer time before you think of replacing it.
The grips imitate the golf style that gives you comfort and ensures usability in all weather conditions.
Another good thing with this rod is that it is designed putting considerations of some of the best anglers' input. To ensure it cuts across or dimension of casting and bass fishing.
PROS
This is a trustable performing rod that gives great services throughout all seasons.
It is convenient for both deep and shallow water, even if you are on a boat.
With this rod, you can control the length of the cast you want.
The handles are well considered to be able to give a better performance.
CONS
There are frequent complaints of the rod unscrewing itself.
CHECK CURRENT PRICE: KastKing Speed Demon Pro Tournament Series Bass Fishing Rods
---
This is a rod that is designed using the finest medium-action graphite, which gives a good sturdy form to work. This graphite construction allows it to last longer. The rod is also easy to lift, allowing you to be on track when following a school of bass.
It has some of the best activity and sensitivity you have not seen in any other rod.
The handles included in this rod feature an anti-slip construction, which gives it more stability. You will also realize the handle is widened to give you a large surface to hold the rod.
It is good for a variety of fish types and can be used for different.
It is comfortable to use and features to cast any distance you want. You can also multitask this rod for fly-fishing activities without making any necessary adjustments.
PROS
It has a sensitive clear tip that helps you fit the hook faster
Very efficient for accurate casting and matching the hatch
It is convenient for use in rivers, streams, lakes, and saltwater
The rod is customized with beauty and is well balanced giving it a lightweight
It accommodates any size of bait
CONS
It is worth the price and gives better services though it is slightly expensive.
CHECK CURRENT PRICE: Moonshine Rod Co. The Drifter Series
---
What to check for the Best Bass Fishing Rod
Choosing a bass fishing rod can seem to be an easy task, but it's never the case. A slight mistake can make you choose the wrong brand that will not work for you.
Choosing a fishing rod is the trickiest part when acquiring a spinning rod. You need to consider some factors, but most important consider your personal needs.
So that you can make an informed decision, this section will help you know the top features and attributes you need to look for in any bass rod.
Durable Construction
When it comes to the construction of rods, two major materials are used. This is either fiberglass or graphite. The Fiberglass construction features the use of fine fibers held together. Then the Graphite Construction features the use of carbon materials.
Both of these constructions have different features.
The fiberglass is heavier compared to graphite and it is incredibly flexible, especially when making a cast. But with Fiberglass, you will forgo sensitivity and durability offered by the graphite. When it comes to price the fiberglass is cheaper.
Graphite is the darling for most anglers. It is a durable and more sensitive choice compared to fiberglass. The main limitation with it is that it is more expensive.
I would recommend the graphite rod but for a start, you can go with the basic fiberglass construction.
Great Brand Reputation
When getting fishing gear choose it from a brand that you trust. If you have no prior knowledge of the recommended brands you can do background research to know the best.
You can even take a survey in your local fishing area, and see which fishing rod is most dominant.
Another way to do the sampling for the best brand is to use your friends' rods and figure out among them which one suits your needs best. You can request recommendations from an expert in this field.
I can recommend the KastKing, Moonshine, and the Barkley brands. This is out of the experience I have gained using these brands. You can also try out the St Croix Mojo.
Length
Determining the length of the rod you want is an easy task. You should do it before you shop for any rod. To do this you need to refer to how you intend to fish with the rod.
These are the main questions you can ask yourself to choose the best length that will suit you:
The type of Lures to use.
Where you will be casting them.
Then ask yourself which techniques you will employ.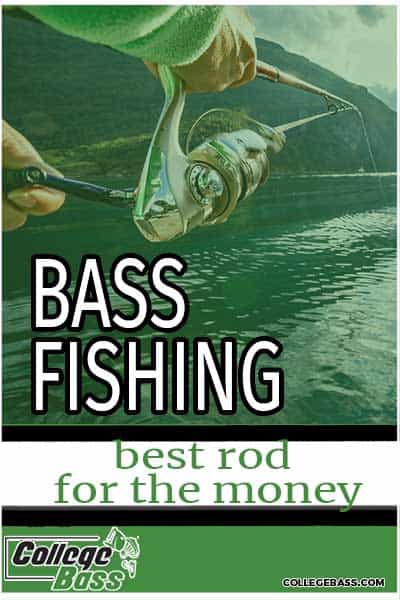 After answering these questions you will know which length you want. You can use a longer rod if you want to make longer casts, move the line faster, and also for moving the fish faster.
Then for the short rod, it's good if you want to have better accuracy and for better trickery casting like matching the hatch.
The Action
When we talk about the action we mean the rate at which an angler moves the rod. This can be slow, moderate, or fast action. This varies with different rods and that is why you should know the one which you want.
The fast action curves in only a third of the blank, the moderate only bend halfway and the slow action bends in the lower part. This is what determines the effectiveness of every action you make. Every action is used in different places and fishing occasions.
After knowing the action you want to use you can now choose the fishing rod that will apply. For instance, the fast rod will need a rod that will bend in the top part and so on.
How to get the right Fishing Rod size?
A fishing rod can have an approximate size of 4 feet to 14 feet on the upper side. But the bass fishing rod is usually between 6 feet to 8 feet. The basic rule that is used to apply in choosing a fishing rod is that the shorter the rod the shorter the distance, the longer the rod the longer the distance.
You are probably wondering why this matters?
Here is the deal.
When you are casting in a small area like the river banks, the short bass rod will work. The small water bodies also call for less bend. Then when fishing in the lake or the sea you can use the long rod that has a fast action.
Differences between a Spinning Rod and a Casting Rod you should know?
Most anglers cannot differentiate between a spinning rod and a casting rod. Why is it so? The main reason is actually that they come in the same size, length, and level of strength.
You cannot distinguish which is which when they are some meters away. You can therefore not use these features to distinguish the two.
But, here are the notable differences you can implement.
Reel type- The baitcasting reel is used in hand with the casting rod. Then the spinning rod has the spinning reel mounted in their reel seat.
Another difference is the reel seat and the guide. The guide for the spinning rod is larger than the casting rod.
Final Thoughts
All the above fishing rods are good, based on my previous experience. If I were to settle on one then theBerkley Big Game Spinning Fishing Rod would be the ultimate winner.
This rod has the ultimate sensitivity and durability that every angler yarns for. Then the handles are amazing and the best of the other 6.
This bass fishing rod fits the attributes of the best bass fihing rod for the money.