Best Plastic Worms for Bass Fishing
Last Updated: 02/02/21
The best bait is the plastic worm for largemouth bass, smallmouth bass, and spotted bass when it comes to bass fishing at least that is what my father always said.
With so many lures available, getting the best one can be difficult because some will work much better than others.
Plastic worms have been effective in producing a large number of catches in most places bass swim.
Let's hook you up using one of the best plastic worms for bass fishing below.
College Bass occasionally links to product and/or services offered by vendors to assist you with all your fishing. Some of these may be affiliate links, meaning we earn a small commission if items are purchased.
Top 7 of The Best Plastic Worms
Get these multi-colored plastic fishing lures to tackle bass the next time you go fishing. With a durable design of environment-friendly materials, this is the ideal type of lure for bass.
It comes in different rich colors that are attractive enough to catch more fish. 
The pack comes with ten plastic worm pieces, each 5.5 inches long. With various colors like cinnamon red, chartreuse shad, green pumpkin, and blue-black flake, you can easily attract different types of fish like bass. Each piece weighs 0.31 oz to move in water easily. 
The life-like body and action of this plastic worm will attract any curious fish. With a natural build, it can easily slither through grass and vegetation without losing any action.
You don't have to worry about it disintegrating either after hooking it through. These are great worms with a good solid jig to catch largemouth bass. 
PROS
Plastic worms are certain to catch a lot of bass
Worms are durable and last a long time
Life-like movement when in water easily draws the attention of fish
Has various colors available for different fishing situations
CONS
Plastic worms can be too firm
CHECK CURRENT PRICE: Sougayilang Soft Plastic Fishing Lures
---
This fishing lure kit consists of various lures like plastic worms, topwater frogs, and spoon lures. You can have an easy time bass fishing with this quality, including 94 pieces of fishing lures and accessories.
All these items come in random colors to attract fish in both freshwater and saltwater lakes. 
The collection features red flakes, split rings, bituminous beads, metal lures, and one topwater frog. This fishing lure set is ideal for ocean rock fishing, beach fishing, lake, pond, and river fishing. 
The design of these lures is more life-like compared to other baits for bass fishing. They swim well in murky and clear water too. 
All the accessories are well packed and come in a plastic box that is easy to carry around and store. You won't have to worry about losing your lure again when you go fishing.
These baits have good strength and toughness for catching bass. With the variety of sizes and shapes available, you will catch bass quickly in different environments.
PROS
Includes 94 pieces of lures for bass fishing
Includes other fishing accessories like hooks and a free tackle box
Plastic baits are versatile for freshwater and saltwater fishing
Comes with a fishing box which make it easy to arrange and store the lures
CONS
This set needs trial and error to find the best one for bass fishing
They can get stuck in weeds and rocks
CHECK CURRENT PRICE: Fishing Lures Kit Set, (94Pcs) 
---
With the Xfishman curly tail lures, you will be attracting different types of fish in the water, including bass. The fat minnow body with a curly tail makes this lure unique and versatile to catch bass.
The curly tail is thicker than the worm's body, with life-like properties for a natural swimming effect that will draw in the bass. The worms are of different sizes too. 
The body is shaped for increased wobbling with a crawfish scent. These curly tail plastic worms are durable and hold up in different fishing conditions and aggressive fish.
The plastic worms are easy to use and are available in five colors. There are 25 pieces in this set to give them a try during your next fishing trip. They come packed in a reusable utility box too. 
PROS
It is easy to use these curly tail plastic worms
Has an active curl tail for life-like swimming in the water
Plastic worms are super durable to hold up even when they get caught by fish
Grub worms are magnets for attracting fish like bass
CONS
Work well with the right combination of hook sizes and weight
Works well in water bodies with a large amount of fish
CHECK CURRENT PRICE: XFISHMAN Curly-Tail-Grub-Worm-Lures
---
These plastic lizard baits are all you need for bass fishing because it represents a prey that they recognize. The big bass will not resist the lizard-like body, and that sweeping tail produces an aggressive action when you fish.
This classic rubber worms design is unique to hide your hook to catch larger bass. 
These lizards are easy to use, and with 25 pieces, they will last long enough for different bass fishing trips. The utility box is reusable when you need a location to store other bait for fishing.
The free-moving scent, ribbed belly, and curly tail will draw in more bass each time you go fishing. It also features a life-like vibration to be more convincing to fish. 
PROS
The plastic lizard bait is easy to use and hook without being visible
The unique and life-like design of the lizard's profile will increase the chances of catching bass
This plastic lizard's tails have an aggressive action when digging to attract fish to strike
Lizard baits are a classic option to use when bass fishing
CONS
You might have to wait a while and  move around before you get a bite
CHECK CURRENT PRICE: Lizard-Baits-Soft-Plastic-Worms-Lizard-Fishing-Lure
---
The bass is going to love these plastic worms from Zoom, and so are you. With the unrivaled action of these worms, you will attract bass during your fishing trips. This pack comes with twenty plastic worms to use the whole day fishing.
These plastic worms are good fishing baits that will work to catch bass.
The finesse worms are only five inches long and consistent in color to better attract bass. The consistency of these plastic fishing worms makes them suitable for bass fishing in deep and shallow water.
With these zoom 6-inch trick worms, you will not leave without bass in your boat.
PROS
These plastic worms are suitable for catching bass
The color consistency of this plastic worm is great for attracting bass
The worms look very natural  and well presented for bass fishing
CONS
They only come in one color
CHECK CURRENT PRICE: Zoom Finesse Worm Bag
---
This scented bundle of worms from bass includes two hooks to keep your bass hanging on longer. These bass crawlers smell like licorice to bring the bass in from further.
With the ideal color combination of purple and white, these worms will be sure to attract bass in different water bodies. With an irresistible body and tail action, this is a natural-looking bait for bass fishing. 
The unique design of these baits feature molding of dots instead of painting them like other plastic worms. With the fast action of these 6.5 inches of plastic worms, bass will not be able to resist taking a bite.
The number four hooks that come with these crawlers are ideal for fishing bass in murkier waters with heavy cover. If you love fishing bass, this is a great pack of plastic worms to get you started.
PROS
The licorice scent is sure to attract bass when fishing
Type 4 hooks are best for keeping the bass hooked longer
These plastic worms are colored in purple and white to increase the chances of a bite
Each stripe and dot is hand molded for a realistic look to catch more fish
The bass will not be able to resist the realistic  swimming action of these worms
CONS
There is no variety of colors available in this pack
CHECK CURRENT PRICE: Bass Crawler Weedless Purple White 2 Hook 6 Pack 
---
Most anglers have heard of a Senko worm or probably have it in their fishing gear. These worms are great for beginners in bass fishing or experienced anglers. This kit holds close to 80 pieces of plastic Senko worms in five different colors. 
The colors are bright to attract bass when fishing in clear or dark water easily. 
They are easy to use with a reusable utility box to store all your bait properly. The simplicity of these plastic worms makes it easy for beginners starting in bass fishing.
The kit also features weights, different types of hooks, beads, and an O-wacky tool. This worm kit is an inexpensive option because you get a lot of value from just one kit.
PROS
The colors are proven to help you catch bass in any body of water
These plastic worms are simple to use for bass fishing beginners
It quivers as it travels to give a natural presentation to bass lurking around
CONS
The plastic can start degrading pretty quickly 
CHECK CURRENT PRICE: XFISHMAN Senko Worms Bass Fishing Lure Kit 30 pk Wacky Rig Worms
---
How to Choose the Best Plastic Worms for Bass Fishing
Catching bass with an artificial worm is simple with the right techniques. Plastic worms are versatile bass lures because they come in different shapes, sizes, and colors.
Aside from your gear and the water conditions, here are other factors you should consider when choosing the best plastic worms to catch bass. 
Colors and Sizes
The plastic worm's color and size are some of the most important considerations when choosing the type of artificial worm to get.
If you plan on fishing in clear water, picking smaller plastic worms of around four inches can increase your chances of getting a bite.
It is easier to locate bass in clear water, so you do not need to attract the bass's attention with large or colorful baits.
Natural colors are ideal when fishing in these locations. When bass fishing in areas with murky water or a lot of cover like laydowns, choose large and colorful plastic worms to increase their visibility. 
Brighter colored worms are better suited for fishing bass in dirty water. Bass behavior changes according to the water temperature, so you can select plastic worms that the bass will expect to see during a certain season. 
Shapes
There are varying shapes and styles of worms to help you catch bass; you will be spoilt for choice. Each shape and style has its advantages to best suit the situation you are fishing in.
When you are looking for a more lively presentation to catch bass, you can use curly tail worms. They work well in murky water and when bass fishing at night. They include plastic worms like gator tail. 
The most common plastic worm styles you will find are straight tail worms. Their shape allows for a range of action when swimming.
These worms are very simple to use when bass fishing, and with various ways to present them, you will get a hungry bass soon.
Some popular straight tail worms are trick worms and stick bait.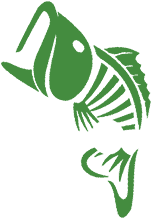 How to Use Plastic Worms when Fishing Bass
The best way to ensure you don't lose your bait is by hooking the worm properly. The only time you want to lose your lure is after the bass catches it.
Suitable gear like bass spinning reels and the right type of worm will also help seek a certain type of fish.
To catch bass, you need to properly fish the bass worms by tossing and retrieving until you notice the bass.
When fishing in open areas without any cover, you can try casting and bouncing it to attract the bass. After getting your fake worms, the next thing you need to know is how to use them.
Plastic worms can work with different types of hooks. With the longer shank of the hook, you will be able to extend the work, while the extra-wide gap is better for hooking the bass when they chew on the plastic worm. 
There are different ways to rig plastic worms when you are fishing in various bodies of water. One of the most popular techniques of using plastic worms is targeting open water bodies and offshore humps that bass usually frequent.
You can work the plastic worms fast or slow according to the fish behavior and the season. 
The Benefits of Using Plastic Worms for Bass Fishing
With so many options for lures and baits, it can be overwhelming to choose the right one for you. As much as you should consider your experience as an angler and personal preferences, there are various reasons why soft plastics are one of the best lures for bass fishing.
Here are some of those reasons.
Versatility
Many factors contribute to the popularity of plastic worms as an ideal bait for bass fishing. Different anglers have stated that plastic worms are versatile because they can be useful in other conditions.
You can use a plastic worm for fishing in rivers, lakes, and ponds. 
These worms are ideal when fishing during summer or winter. Plastic worms are useful when catching fish in areas where bass are commonly located, like murky water.
The versatility of this bait is due to the different shapes and sizes of plastic worms. The versatility means you can use plastic worms during different situations. 
Ease of Use
In comparison to other lures and baits like spinnerbaits and crankbaits, using plastic worms is much simpler. All you have to do is rig the worm, and you are set for bass fishing.
Plastic worms are easy to store as well, and they do not leave any mess behind. 
Unlike live bait, plastic worms won't be smelly and do not require special storage either. As long as you keep the plastic worms properly stored, they will last for years when you go bass fishing.
These inexpensive worms are the ideal lures because you can get a pack of worms at the same price as one bait class. 
Final Thoughts
In this review, I suggest you chose the 6″ lizard bait kit when you want to catch bass. These plastic worms come in different colors, are soft and scented to catch bass whether you are fishing in clearer water bodies or stained water.
This set contains 25 pieces with aggressive action to ensure the bass takes a bite.
Whether you are a beginner in bass fishing or experienced bass anglers, using plastic worms will increase your chances when catching bass.
To ensure you reel in bass on your hooks, get the colorful plastic bait in the right size for the next time you go fishing.